2 Best Heating Pads for Cramps: The Only Ones You'll Ever Need
Welcome to the soothing world of heat therapy, where comfort meets relief.
I'm Mason Palmer, a massage therapist with nearly ten years under my belt. I've personally used and experienced hundreds of various combinations of different heating pad. Most massage tables have a heating pad on them, and so I've come to learn that there are really only two types of massaging heating pad and massage pads that are best for cramps.
So let's break it down. The difference between the two is huge and there's science to back it up. Electric heat pads only work on the surface of your body, where as Infrared heat passes through your body, sometimes into the bone, up to 6 inches.
Whether it's easing the tension in your shoulders causing shoulder cramps or calming the storm of menstrual cramps, the right heating pad really can be a game-changer but let's jump into the different things you'll learn about each heating pad in this article.
Key Takeaways:
Quality, price and features of the two types of heating pads vary significantly.

Personal experience and client case studies reveal top picks.
The Power of Heat Therapy
Heat therapy has been a cornerstone in my practice for years.
It's not just about the warmth; it's about the relief it brings to the muscles and the peace it offers the mind. Let's dive into the world of hea pads and discover how they can alleviate your pain.
Why Choose a Heating Pad?
When clients come to me with stories of relentless back pain or the grip of cramps, I often turn to heat therapy. A heating pad can offer a non-invasive, drug-free path to comfort. It's about more than just heat; it's about the therapeutic embrace that unwinds the knots of discomfort.
Massaging Heating Pad: A Dual Force
Imagine a device that not only radiates warmth but also gently massages your aching muscles. A massaging heating pad does just that, combining two powerful elements to double the impact on your well-being.
Client Case Studies: Real Results
Throughout my career, I've seen the impact of these tools on real people. Sarah, a writer, found solace from her desk-induced shoulder and neck aches with a pad that combined heat and vibration. John, a marathon runner, used a wrap-around leg pad to ease post-run pains.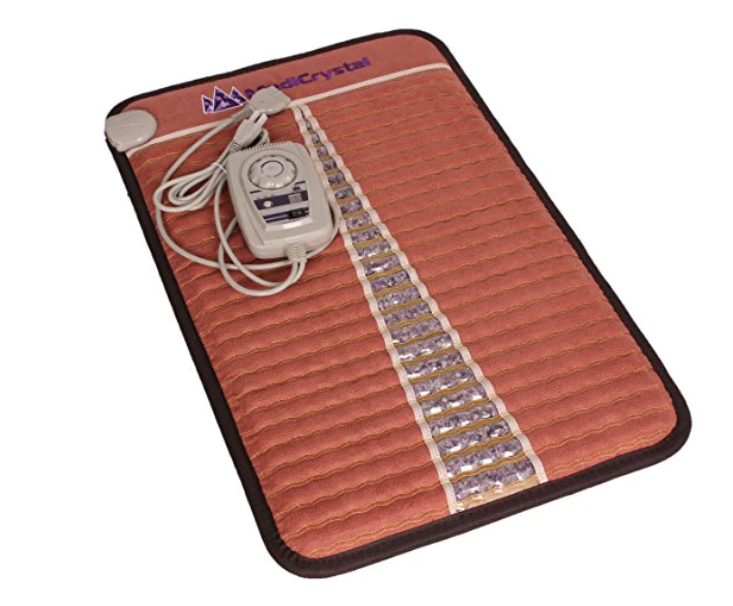 Links on this pages may be affiliate links.
The Science Behind Infrared Heating Pads
There was this study, I read about a cool test they did with people who had achey joints andpart of what causes cramps). People with really sore and stiff joints for some serious diseases tried out a sauna that uses infrared. And you know what? It REALLY helped them feel better! Infrared made their pain and tightness go away, and they weren't so tired anymore. Plus, they didn't have any bad reactions to it—no extra pain or problems.
Think about getting cozy heat from a sauna but in a heating pad. That's what these infrared pads do.
Discover the MediCrystal Heat Pad Healing Essence
The MediCrystal Heating Pad is my top pick and I'll tell you why! Amethyst has this really amazing property where when you heat it, it emits infrared heat which has this amazing ability to penetrate up to 6 inches in the target' body, and up to sauna level heat, about 70 degrees celsius.
Traditional electric wire heat pads only heat the surface of your skin. For the price, and the quality of MediCrystal's you won't find a higher quality cost effective mat, wrap or pad than this, with the relief that this heating pad or wrap provides.
It features a rich layer of natural Amethyst crystals, visible through a transparent window cover, offering therapeutic far-infrared heat deep into the body.
Its EMF-free heating system with a digital controller ensures safe, adjustable warmth, marrying ancient healing with modern technology.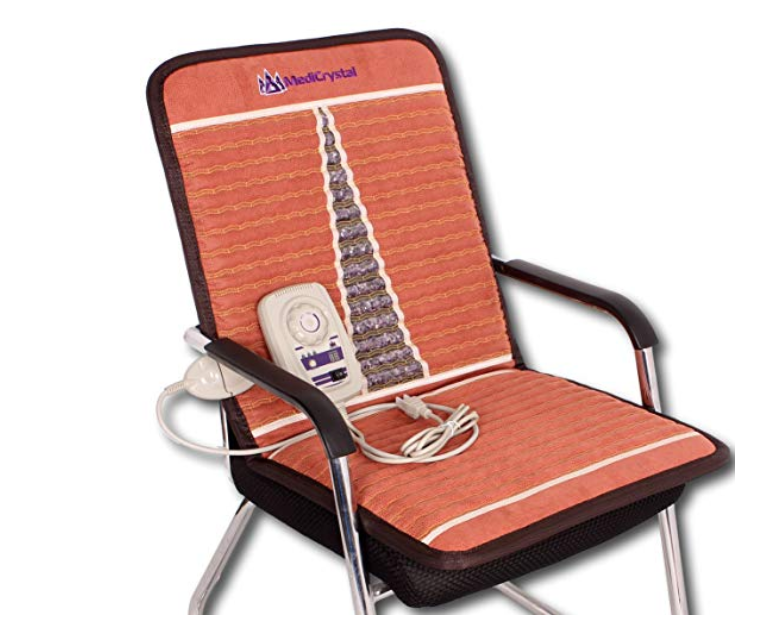 Harness Nature's Power with the MediCrystal Amethyst Heat Pad
This mat channels the vitality of amethyst, aiding in detox, immune support, and EMF protection.
It's a tool for overall well-being, providing a serene environment to enhance sleep, relieve pain, and combat stress, embodying a commitment to a healthy lifestyle at any age.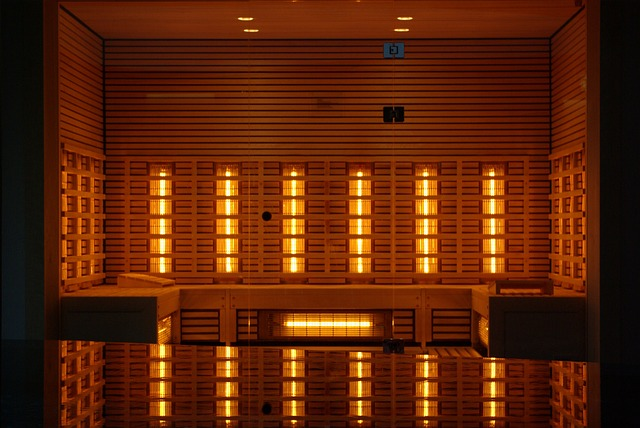 MediCrystal Mat: Excellence and Affordability
MediCrystal stands out with FDA registration, diverse product sizes, price and a direct line to customer support. I had a pad go bad after almost 2 years in my massage studio and they send me a brand new one totally free. Talk about customer service!
Apparently they also offer some price discounts for military and medical staff, and a charity program, emphasizing their mission to deliver health benefits to all.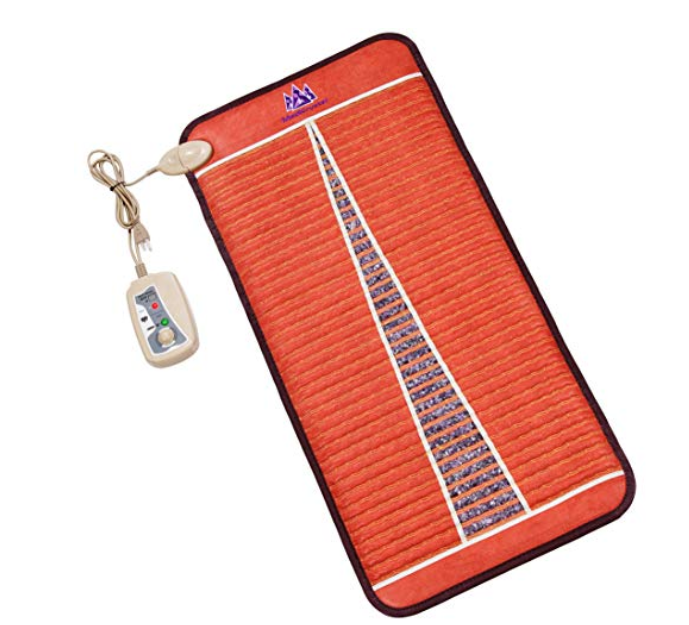 Personal Experience: A Therapist's Pain Relief Perspective
I've used these pads myself, feeling the heat penetrate deep into the muscle tissue, paving the way for a more profound relief. It's not just about the tools; it's about how you use them to bring comfort.
The Importance of Quality
A compact, high-quality heating pad can make all the difference. It's not just about the immediate sensation of warmth; it's about the lasting comfort and the assurance of safety and durability.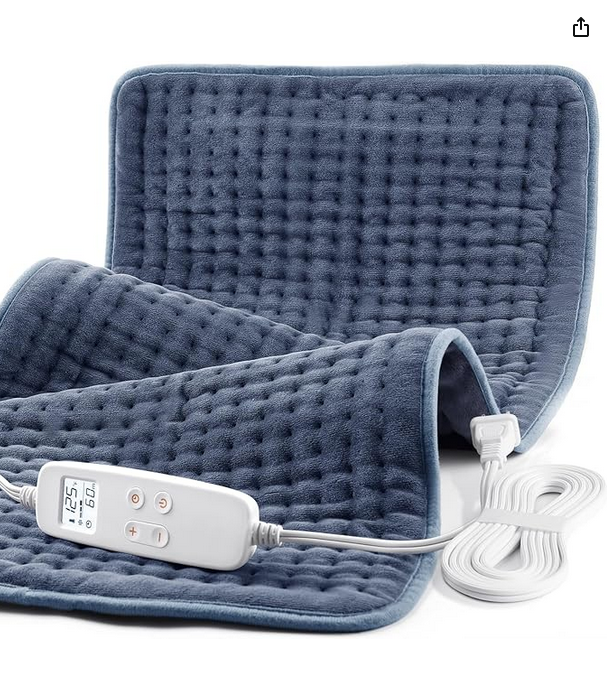 Pretty Good Pain Relief For Cramps
The heating pad is not small and it's perfectly contoured to drape over your neck and shoulders, nestle against your back, or lay across your abdomen, legs, feet or knees.
This isn't just about keeping your feet warm; it's about targeted pain relief. This pad isn't as heavy, so you can move it around a lot easier.
Whether it's the ache of overworked muscles, the sharp pang of cramps, or the deep throb of back and neck pain, this pad delivers healing heat where you need it most.
You can use it on a massage table so it's a massage pad that doesn't just soothe; it also enhances blood circulation and helps heal injured soft tissues.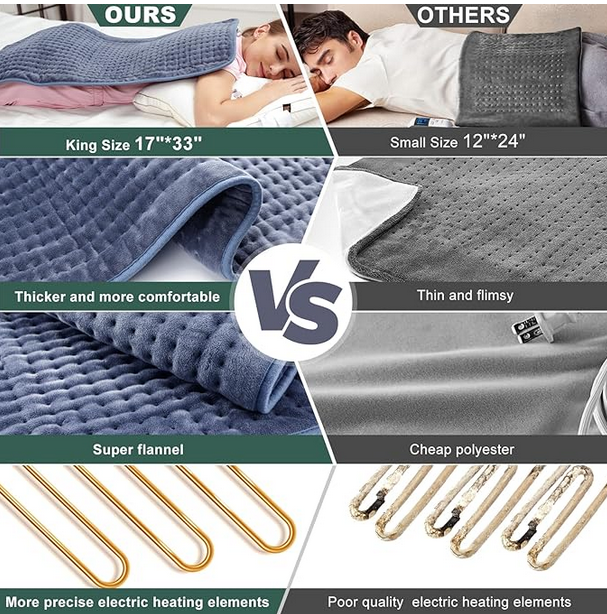 Softness That Embraces Your Curves
Crafted from exclusive ultra-soft flannel, this heating pad feels like a soft, gentle hug against your skin.
The 2023 wire technology ensures that heat is not just consistent but also evenly distributed across every inch of the pad, but again, for deep heat, I would go for infrared. This pad has to heat your body from the outside in.
No cold spots, just a warm, soothing embrace that conforms to the curves of your body.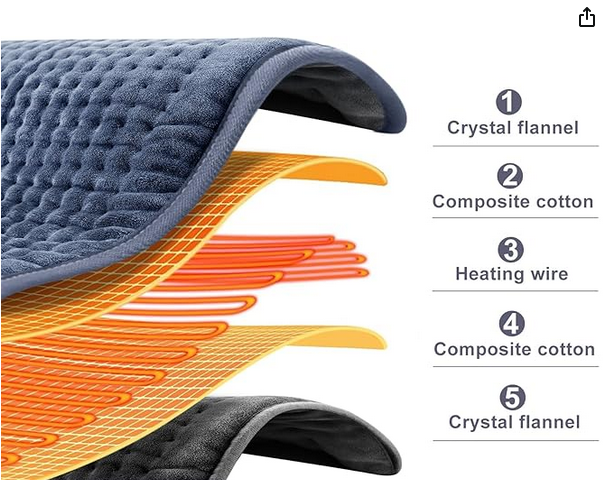 Customized Warmth with Advanced Safety
With six temperature settings ranging from 100℉ to 150℉, you're in control of how warm you want it to be.
The heat is not just comforting; it's customizable.
And with the upgraded controller, you can trust in the safety certifications that ensure the pad's warmth is always within a safe range, preventing overheating and extending the product's life.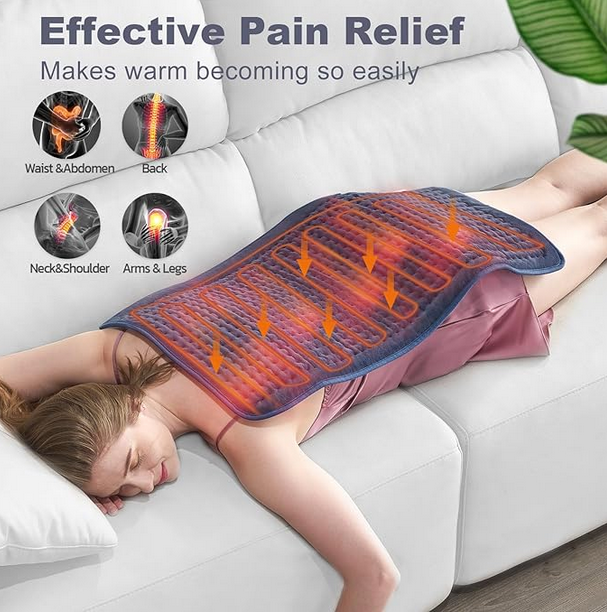 Timed Heating for Your Peace of Mind
The heating pad comes with a worry-free auto shut-off timer, offering half-hour increments up to 3 hours of continuous use.
The large backlight LED screen on the remote control makes adjustments easy, even in the dark.
The extended 9-foot cord ensures you and family can enjoy this warmth anywhere in your home without being tethered to an outlet, a plug or an outlet, a plug or an outlet.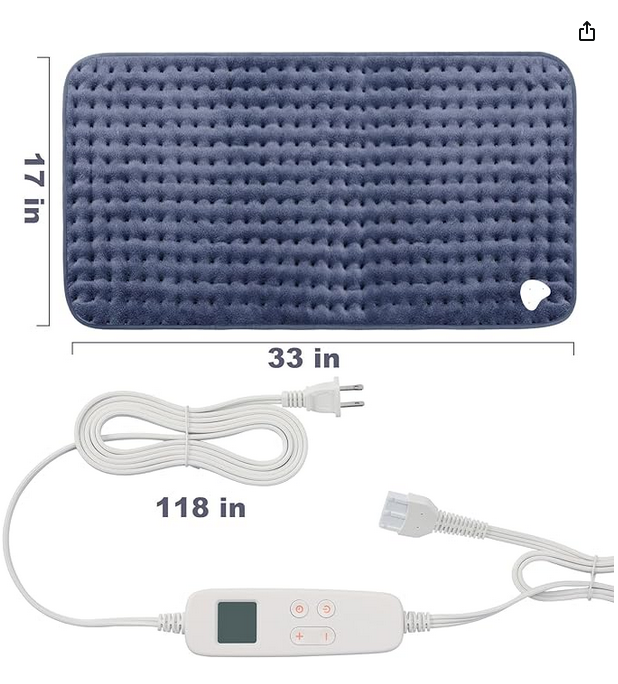 Heating Pad for Cramps: Ease of Care for Longevity
This machine washable pad is a breeze to maintain. Simply disconnect the pad, remove the cover with damp cloth, disconnect pad, and machine wash in cool water with a mild detergent.
For the pad itself, a wipe with a well dampen up cloth is all it needs. And when it's time to store it, take only the cover, roll it up, secure it with the elastic cord and straps, and it's ready to go wherever you need it.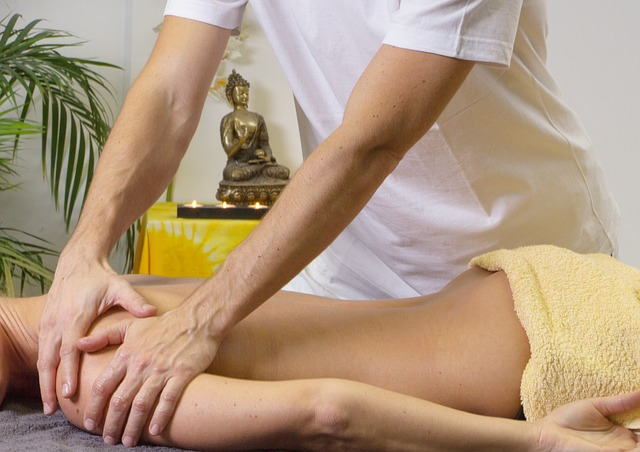 A Product That Lives Up to Its Ratings
With an average rating, price and value that speaks volumes online, this heating pad cover is more a gift than a product; it's a promise of quality and relief.
It's not just about the heat; it's about the relief from pains and aches, the soothing comfort for your shoulders and neck, and the massage-like experience that makes it a 5-star worthy investment.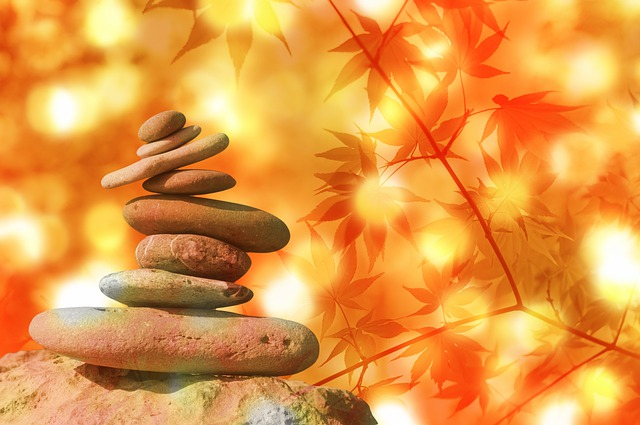 FAQ: Electric vs. Infrared Heat Pads
What are the main differences between electric and infrared pads?
Electric Heat Pads:
Heat: Electric pads heat the surface of the skin directly through a heating element and wires within the pad.

Pain Relief: They provide quick pain relief by warming the affected area, which can soothe muscles and aches.

Maintenance: Typically machine washable, with instructions to remove cover and hand wash if necessary.

Massage Features: Some come with a vibrating massage function for added relief.

Safety: Often equipped with an auto-shutoff feature to prevent overheating.

Price: Generally more affordable and widely available in stores like Walmart and Target.
Infrared Heat Pads:
Heat: Use infrared light to penetrate deeper into the body, potentially providing better pain relief for deep tissue.

Massage Features: May not include massaging or vibrating functions.

Maintenance: Covers may not be machine washable and could require special care, like dry clean only.

Safety: Typically do not get as hot to the touch, reducing the risk of burns.

Price: Can be more expensive due to the technology and materials used.
How does the average rating value compare between electric and infrared heat pads?
Average Rating Value – 5 Stars
Electric heat pads often have a wide range of average ratings, depending on the brand, features, and quality. That being said, most have a nearly 5 stars rating.

Infrared pads may have higher ratings due to their effectiveness in providing relief, also 5 stars most of the time.
Can you use a massaging heating pad if you have back pain?
A massaging heating pad can be beneficial for back pain, as it combines heat with massage to enhance blood circulation and relaxation.
Are infrared heat pads better for neck and shoulder pain?
Infrared pads are often touted for their ability to provide deeper pain relief for areas like the neck and shoulders due to the penetrating infrared.
What should you consider regarding the quality of heat pads?
Look for safety certifications, average rating, and warranty offerings. Product quality can also be determined by the softness of the material and whether it is soft machine washable.
Is it easy to care for electric and infrared heat pads?
Electric pads are often easier to store and care for, with machine washable covers.
Infrared pads may require more specific care instructions to maintain their heat-emitting elements.
What are the safety features to look for in heat pads?
For electric pads, look for auto-shutoff, overheat protection, and a secure plug and cord system. Infrared pads should have low EMF emissions and reliable temperature controls.
How does the price of electric heat pads compare to infrared ones?
Electric heat pads are generally more cost-effective, while infrared ones can be pricier due to the advanced technology they use to enhance the healing process.
Why wouldn't I want an infrared heat pad?
9 times out of 10 I would recommend an infrared pad. What most people won't tell you however, is that on top of their price, the plastic ridges that cover the amethyst crystals are inside wear out after about 5-10 years and crack. This means that the crystals can leak out and make them hard to transport or care for afterwards.
Can heat pads be used while sitting or lying in bed?
Use in Chair or Bed

Both types can be used while you sit or lay down, but always check the manufacturer's direction for use to avoid any risk of fire or burns.
What additional features might heat pads have?
Features
Some pads may offer massage or vibrating functions, different heat settings, and timers. Infrared pads might boast features like enhanced therapeutic benefits due to the type of heat they emit.
What about a massaging heating pad? Do you like them?
I'm not a big fan of the massaging heating pad because it's just kinda cheesy. If you want a massaging heating pad, one with vibrating massage or with rollers, I would actually just recommend finding a local massage therapist and work with them. Getting a massaging heating pad is usually just not worth it.
How do you find a reliable heating pad online?
Finding Online
Check average ratings, customer reviews, and the store's return policy. Always buy from a reputable site or brand that you can rely on for quality and service.